Cottagecore Dress™ | Embrace the cottagecore trend!
Embrace the cottagecore trend with our elegant floral dresses and reconnect with simplicity, nature and silence, away from the hustle and bustle of modern society.
Adopt your own aesthetic!
Do you like flowing, light and chic dresses? Then you will love our sublime models! Enjoy the beautiful days in the sun and free yourself with our pretty clothes. Rediscover the feeling of living in simplicity!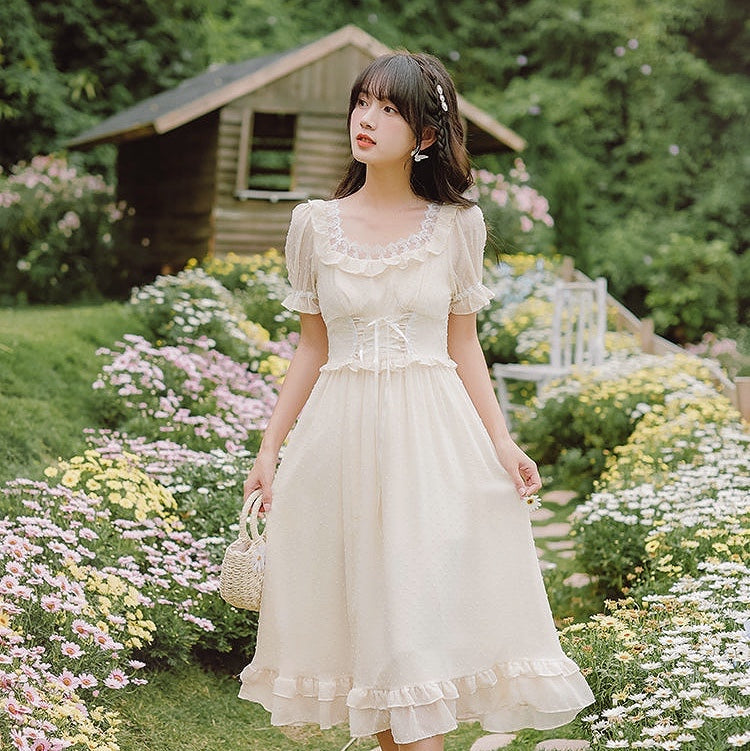 The cottagecore aesthetic
The cottagecore aesthetic is a celebration of a simple life, in harmony with an idealized nature. The trend has become popular via social networks, such as tik tok and Instagram, to name but a few. Many young women are embracing the cottage-core, companionable dresses and showing their audience their authentic style and their attachment to the simple country life. Often photographed in an environment surrounded by flowers and fields, these influencers are inviting a growing audience to adopt their lifestyle and style of dress. The cottagecore trend is part of the anti-consumerist movement and seeks a return to simplicity.
Cottagecore Dress™ : a specialised shop
Cottagecore Dress™, is a store specialising in cottagecore inspired dresses. You will find beautiful dresses, featuring floral, polka dot or simple patterns, smooth lace fabrics, made of linen, polyester or cotton. In our online shop you can choose from a wide range of cottagecore dresses in blue, green, white, black, pink… We have added a larger collection to meet the needs of curvy women. All dresses have been selected to meet the quality requirements of our customers.